Replacing Chrome With Advanced Specialty Materials
POSTED November 13, 2019
Part 1: Technology in Advanced Specialty Materials
Today's luxury models still shine, but more often with painted plastic or polished stainless steel than actual chrome. Regulatory mandates for low carbon emissions and fuel efficiency require auto manufacturers to seek lightweight strategies in advanced specialty materials and that means removal of any unnecessary weight, including the shiny chrome once a signature of the auto industry.
Auto manufacturers are striving for increased safety and technological advancement while reducing weight with a variety of advanced specialty materials including carbon fiber, fiberglass composite, high strength steel and aluminum alloys.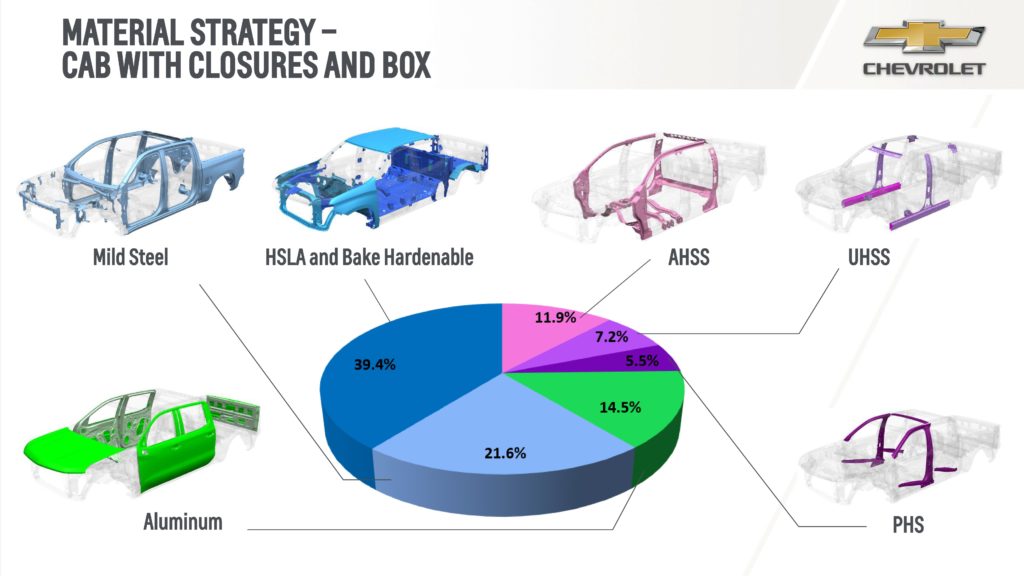 In 2018, Chevrolet increased the strength of 2019 Silverado frame by 10% with an 88-pound reduction in weight using a variety of advanced specialty materials as illustrated in Figure 1.
Similarly, BMW's 2019 8 Series Coupe came to the US with a mixed-material body that offered the option to swap out the aluminum roof for a carbon-fiber one, in addition to extensive use of aluminum on the hood, doors, roof and front firewall.
Common Advanced Specialty Materials
Carbon Fiber Reinforced Plastic resin (CFRP) is a composite manufactured for very high strength to low weight ratio. However, the manufacture and tooling of CFRP remains expensive and has not reached economies to be made available on a broad scale. There are potential respiratory hazards when tooling it, difficulties recycling it and special skills required to make repairs. Common uses include exterior parts, power train systems, under body systems, chassis systems, pressure vessels and interiors.
Glass Fiber Reinforced Plastic resin (GFRP) is a corrosion-free, lightweight composite used in the front and rear bumpers, hoods, doors, and casings. Similar to CFRP, there are recycling challenges and 'end of life' uses being researched, but the landfill is not an option.
Affixing CFRP or GFRP to other materials presents challenges as the structure of the composites can be damaged if punched by rivets or screws, and CFRP can corrode if joined improperly to metals.
Advanced High Strength Steel (AHSS) is a new generation of steel created from carefully selected chemical compositions and multiphase microstructures resulting from precisely controlled heating and cooling processes. The results offer a range of strength and toughness for use in passenger areas and crump zone. When compared 2020, 71% of hoods and 25% of doors will be manufactured from aluminum alloy, illustrating the rapid adoption which continues to grow.
When asked how the use of advanced specialty materials will impact auto insurance claims, Douglas Craig, Field Technical Expert, Collision Repair with Lord Corporation, cites challenges to both adjusters and repair shops. While the industry is pushing for open access to training and the specific repair procedures for each make and model by the OEMs, today that is not the case. Repair shops must utilize paid subscriptions to access most manufacturer recommended procedures and researching repairs can require 2 to 4 hours of labor time to build a repair plan. It is understandable why replacement could become the trend over repair, and at a cost to insurers. Between the rise in labor and parts costs, there is a foreseeable increase in total loss declaration as well. The good news, from Craig's perspective, is that cars are becoming increasingly safe and with new technology, fewer collisions should occur with fewer injuries and fatalities – which is a win for all.
---
References
1. https://www.repairerdrivennews.com/2019/01/08/smdi-more-than-65-advanced-high-strength-steel-vehicles-debuted-in-2018/
2. https://www.repairerdrivennews.com/2018/06/19/bmw-2019-8-series-has-optional-carbon-fiber-roof-uses-much-aluminum/
3. https://www.futuremarketinsights.com/articles/automotive-composites-outlook-201
4. https://www.autosteel.org/-/media/files/autosteel/research/ahss/ahss-101—the-evolving-use-of-advanced-high-strength-steels-for-automotive-applications—lr.ashx
Popular Posts

Categories

Archives