The Future of Used Car Values: A Glidepath or a Nosedive?
POSTED May 22, 2023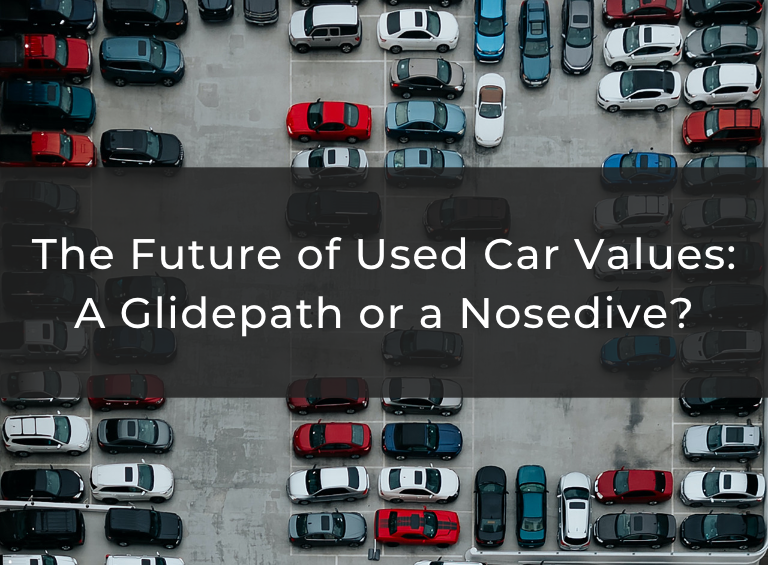 The collision repair industry, specifically the repair versus total loss decision thresholds, is heavily influenced by used car values. As we observe the pricing trends in the used car market, it's crucial to examine what lies ahead for the industry in 2023. 
Average Wholesale Prices 
Average wholesale prices for used cars ended 2021 at around $26,600 and 2022 at approximately $24,700, according to J.D. Power & Associates. This gradual decline is expected to continue throughout 2023, indicating a glidepath rather than a nosedive. 
Factors Affecting the Used Vehicle Supply 
When analyzing the used car market, the volume of off-lease vehicles and overall new vehicle sales volumes from previous years are significant indicators. A reduced population of 0-5-year-old vehicles due to lower lease return rates and the impact of COVID and microchip shortages on new vehicle sales heavily influence used car values. 
The Impact of Online Retailers' Demise 
The broader used car market may also be affected by the financial struggles of the two largest online retailers of used cars, Carvana and Vroom. With Carvana losing $1.6 billion in 2022 and Vroom posting a net loss of $451.9 million, the possibility of bankruptcy-driven dumping of vehicles by these retailers could momentarily accelerate the reduction in used vehicle values. 
New Vehicle Sales Forecast 
Changes in new vehicle sales significantly influence used vehicle values, as strong new car sales tend to lower the prices of used vehicles. The US light vehicle market is projected to grow by around 10% to 12% in 2023, with total sales exceeding 14.5 million vehicles. Although this increase in volume is promising, it remains lower than the 16 to 16.5 million pre-COVID sales volume. Consequently, better but not stellar sales will slow the glidepath of used vehicle values. 
Considering all leading indicators, we can expect that a sudden drop in used car values in 2023 is unlikely. The impact of used car values on collision repair will likely remain consistent with what we saw in 2022.